American cuisine is difficult to define. Much like the people living there, the foods of the United States are made up of many different cultures, in all sorts of combinations. There are, however, many dishes that could now be considered "American," even if they didn't necessarily start out that way.
This list explores 27 of the most quintessential American dishes.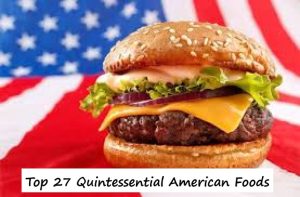 1. Apple Pie
We'll start off with the dish so American it coined a famous phrase, "As American as apple pie."  Apple pie may not have originated in the US – it is believed to have been brought over by European immigrants – but it has since cemented its place in the American culinary scene.
2. Cheeseburgers
The cheeseburger started life as a "Hamburger Steak Sandwich," popularized in the 1890s. When the cheese was first introduced is disputed, but the trademark for cheeseburgers was awarded to Louis Ballast of Denver, Colorado in 1935.  These days you'll find a cheeseburger on almost every American food menu.
3. Pizza
I know what you're thinking – pizza is Italian! But with Chicago-style, Detroit-style, and New York-style to name a few, how could you argue that pizza isn't American?
Pizza has become a varied regional American menu item, often accompanied by heated opinions about which style is best. But from fork and knife Chicago deep dish to foldable New York pizza, it remains one of the most popular dishes out there.
4. Nashville Hot Chicken
Nashville hot chicken is a spicy dish with a spicy story. Legend has it that chicken entrepreneur and known ladies man Thornton Prince was served chicken coated in cayenne pepper by a scorned lover in an effort to teach him a lesson.  Prince ended up loving the dish, opening a restaurant, and the rest is history!
5. Biscuits and Gravy
Nothing quite says comfort food like combining carbs with more carbs. White sausage gravy generously ladled over hot biscuits, biscuits and gravy is mostly popular in the south, but can be found almost anywhere breakfast is featured.
6. Cornbread
Cornbread, a quick bread made with cornmeal, is a pillar of southern American cuisine. Some like it sweet, some savory, and some with additions such as jalapeno or cheddar.
Cheap, easy, and readily available, it continues to stand the test of time, accompanying dishes such as chili or barbecue, or eaten on its own with a pat of butter or honey.
7. Jambalaya
Fun to say and fun to eat, Jambalaya is a Cajun and Creole dish from Louisiana. Both Creole (red) and Cajun (brown) jambalaya start with trinity, which is similar to mirepoix but with green pepper instead of carrots. Creole turns red with the addition of tomatoes. Rice is then added to the dish, and the spices can be adjusted to one's taste. It's a great and filling one pot meal.
8. Country Fried Steak
Also known as chicken fried steak, country fried steak is cubed beef steak floured and breaded in the same way you'd bread and fry chicken. It is then covered in southern white pepper gravy and often served with mashed or breakfast potatoes. It can be served as breakfast or as a dinner entrée.
9. Meatloaf
Meatloaf is a dish so varied in origin that many cultures can call it their own. However, the American variety first appeared in Fannie Farmer's "Boston Cooking School Cookbook" in 1918 and has featured on almost every American dining room table since.
In fact, in 2007 it was rated #7 on a Good Housekeeping list of Americans' favorite dishes. Made with ground beef, eggs, and breadcrumbs shaped into a loaf and baked, it can be bolstered with ground pork, sausage, any number of flavorings, and even have a hardboiled egg in the middle!
10. Macaroni and Cheese
Pasta and cheese may be nothing new, but chefs have been putting their own twist on macaroni and cheese since the 1800s, when it appeared in "The Virginia Housewife." Whether eaten as a side or as an entrée with meat or vegetables added, mac and cheese is a favorite across the board, from toddlers to culinarians.
11. Peanut Butter and Jelly
You could call the peanut butter and jelly sandwich the best thing since sliced bread – if it wasn't older than sliced bread itself. While sliced bread was invented in the 1920s, the first recipe for a peanut butter and jelly sandwich appeared in the Boston Cooking School Magazine in 1901.
Now most commonly served with grape jelly, the PB&J is vastly popular with American children, or anyone looking for a quick and delicious snack. Be sure to enjoy one on April 2nd, national Peanut Butter and Jelly Day!
12. Chicken and Waffles
With chicken and waffles exploding onto the culinary scene in the last decade, it's easy to assume that it's relatively new. Actually, the dish dates back to the 1600s. First served by the Pennsylvania Dutch with stewed chicken and gravy, chicken and waffles has since evolved into the fried chicken and maple syrup dish enjoyed by breakfast lovers today.
13. Buffalo Wings
We all know buffalo wings to have originated in Buffalo, New York, but the story of their origination is somewhat disputed. Although most sources credit Teresa Belissmo of The Anchor Bar in Buffalo with their invention, what is undisputed is their impact on the American culinary scene.
Chicken wings, once an undesirable cut of meat usually thrown away or used for stock, is now a hot item, and "buffalo" itself is considered a flavor all of its own.
14. Grilled Cheese
Starting life as "The Cheese Dream," the grilled cheese was once an open faced sandwich and an easy and inexpensive way to feed a family during the Great Depression.
Grilled cheese sandwiches have had a resurgence in the last few decades, with some restaurants completely devoted to them. They're so popular that Americans eat an estimated 2.2 billion grilled cheese sandwiches a year!
15. Philly Cheesesteak
It's hard to forget a sandwich that has the city that birthed America in its name. Philadelphian brothers Pat and Harry Olivieri are credited with the invention of the cheesesteak when they decided to serve something new at their hot dog stand. The sandwich took off in popularity, and the brothers opened a steak sandwich restaurant, Pat's King of Steaks, that is still open today.
16. Hot Dogs
Though the frankfurter originated in Frankfurt, Germany, hot dogs are now considered a distinctly American food, with each region having their own version. Some of the most notable are the Chicago dog, "dragged through the garden" with relish, sport peppers, and tomatoes, the Coney dog with chili, cheese, and onions, and the Southern dog slathered in coleslaw. One bite into a hot dog conjures up images of Americana, from ball parks to the 4th of July.
17. Barbecue
From sweet, smokey Kansas City, to tangy Carolina and to the dry rubs of Texas, few things say summer like good American barbecue. Colloquially, barbecue generally refers to the flavor or the event, but barbecue is actually all about the method of cooking (hence the variations in regional seasoning).
The word barbecue comes from the Spanish word barbacoa, which the Oxford Dictionary traces back to mean "a framework of sticks set upon posts".
18. Submarine Sandwich
Sub, Hero, Hoagie, Grinder; depending on where you are these are all words you might hear to describe the long sandwiches cut lengthwise and filled with meat, cheese, veggies, and condiments. They can be served hot or cold and are often stuffed with deli meats but have also been known to contain meatballs, chicken parmesan, and other more creative fillings.
19. S'mores
A combination of the words "some" and "more," s'mores are named as such because after you have one, you always want some more. S'mores were originally a popular treat with Girl Scouts and known simply as graham cracker sandwiches.
They first appeared as "Some Mores" in Trampling and Trailing with the Girl Scouts in 1927. Generally cooked on a skewer over a campfire, s'mores can also be made over coals at the end of a barbecue or even in the microwave. The s'more flavor has become so popular you can now find it everywhere from cereals to candy bars.
20. New York Cheesecake
New York-style cheesecake, with its dense, creamy texture, is a blank canvas for toppings of all kinds. The New York cheesecake as we know it is credited to Arnold Reuben of Reuben's Restaurant and Delicatessen and is now a symbol of indulgence and decadence in the dessert world.
21. Reuben Sandwich
Legend has it that the Reuben sandwich was invented by Arnold Reuben (the very same Arnold Reuben of cheesecake fame) for actress Annette Seelos in 1914.
The story goes that Annette asked him to make her a sandwich, so he put together a sandwich that was in his words "a foot high". Later she told him it was the best sandwich she had ever eaten, and it thusly made its way onto the menu as the Reuben's Special.
22. Cheese Curds
Cheese curds, also known as "squeaky cheese", are a mainstay of the northern United States, namely Wisconsin.  They're made after the culture is added to the cheese and it clots. The whey is then pressed out and the curds remain.  They can be eaten alone as a snack, deep fried and served as an appetizer, or served as a topping, like the French fry and gravy dish poutine.
23. Chili
Chili is a hotly debated dish in North America, with some insisting that true chili does not contain tomatoes or beans.  In some parts of the country, namely Cincinnati, chili lovers will tell you that you must include pasta as well. Regardless of your thoughts on the ingredients, chili is a great way to warm up on a cold day and is best served with another American favorite, corn bread.
24. German Chocolate Cake
If you don't already know the history of the German chocolate cake, you might not expect it to show up on a list of American foods. The name does not in fact come from the country of Germany, it is instead named for American baker Samuel German, who developed the sweet chocolate used in the cake.
The cake is traditionally cut into layers and served with a coconut pecan frosting.
25. Cobb Salad
The Cobb salad is traditionally made with four types of greens, fried chicken, hardboiled eggs, bacon, bleu cheese, tomato, and avocado. Generally these ingredients are laid out in rows upon service. The name comes from restaurant owner Bob Cobb, who, after not eating all day, is said to have mixed together all the leftover ingredients in the kitchen.
26. Ranch Dressing
Ranch dressing has been the most popular dressing in the United States since 1992 and is often associated with Midwest cuisine. Steven Henson came up with the recipe in 1949, named it Hidden Valley Ranch, and began selling it to local markets.
Ranch dressing is now available in supermarkets and restaurants across the country and appears as a flavor in many popular snacks.
27. Chocolate Chip Cookies
We often hear that the chocolate chip cookie was an accidental invention, with the baker adding forgotten chunks of chocolate to the cookie batter and hoping it would melt. Ruth Wakefield, the inventor of the chocolate chip cookie herself, insists that this is in fact not true. While running the Toll House, she deliberately developed the recipe to accompany ice cream. 80 years later the recipe can still be found on the back of Nestle's Toll House chocolate chips.